Newsletters
Blood Star Gallery
November 17, 2013
Letter #38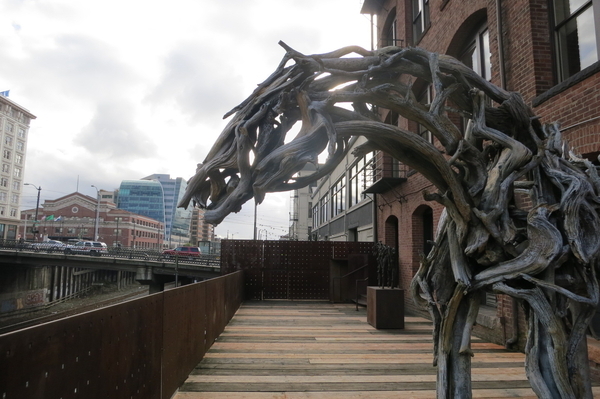 As the train approached the Seattle station we caught a glimpse of a large stallion overhead. Out on the street we passed a gallery with a mare occupying the entire first room....they had to be Deborah Butterfield's horses! We'd last seen an installation of her work a few years ago on New York's Park Avenue. Her larger than life-sized horses are magnificent. At first glance, they appear to have been assembled from sun-bleached driftwood but on closer inspection, they're bronze.
Butterfield has spent more than thirty years making sculptures of horses, initially in wood, sometimes in found metal and concrete. When her early wood sculptures started to deteriorate she opted not to have "a secondary career as a veterinary art restorer" and chose instead a labour intensive process of first constructing and documenting each piece of the horse in wood, then deconstructing it and finally casting each piece of wood in bronze before reassembling it.
In a lifetime of observing horses and half a lifetime sculpting them, she has produced a large arresting body of work that captures their noble character. It's a wonderful example of what an artist can achieve when she focuses on what she knows and loves.
To see more of Butterfield's work, http://www.gregkucera.com/butterfield.htm
And, we invite you to take a look at our new website www.bloodstargallery.com .
Best,
Susan and Frank
Susan Taylor and Frank Ducote
Blood Star Gallery
South Pender Island, B.C.
Feel free to share our Letters from the Blood Star with your art-loving friends.
And, if you don't want to receive any more Letters from us, just reply to this message with "please remove".
older blog items...